Plumbing Supplies
__________
At WMBM, we provide an extensive range of high quality plumbing supplies at the most competitive prices in the Birmingham and West Midlands area. Our prices may be low but our level of customer service is sky high. We hold stock of a wide array of essential products that we know our customers require on a daily basis. However, if we don't stock a more niche item that you require, we can have it with you within a day or two.
Whether you require pipes, pipe fittings, pipe insulation, brassware & valves, mdpe blue pipe fittings, flexible hoses, wastes & traps, pipe covers, plumbing tools, plumbing accessories & more, we have it all. No matter how small or large your plumbing job may be, WMBM can cater for all of your plumbing supply needs.
As we are part of a wider home improvement company, we understand the many tasks associated with plumbing which enables us to better and more efficiently answer your queries & meet your requirements.
Whether you're a professional tradesman or a DIYer, if you have absolutely any questions regarding our products or want to learn more about our pricing, get in touch with the brilliant West Midlands Builders Merchants team today!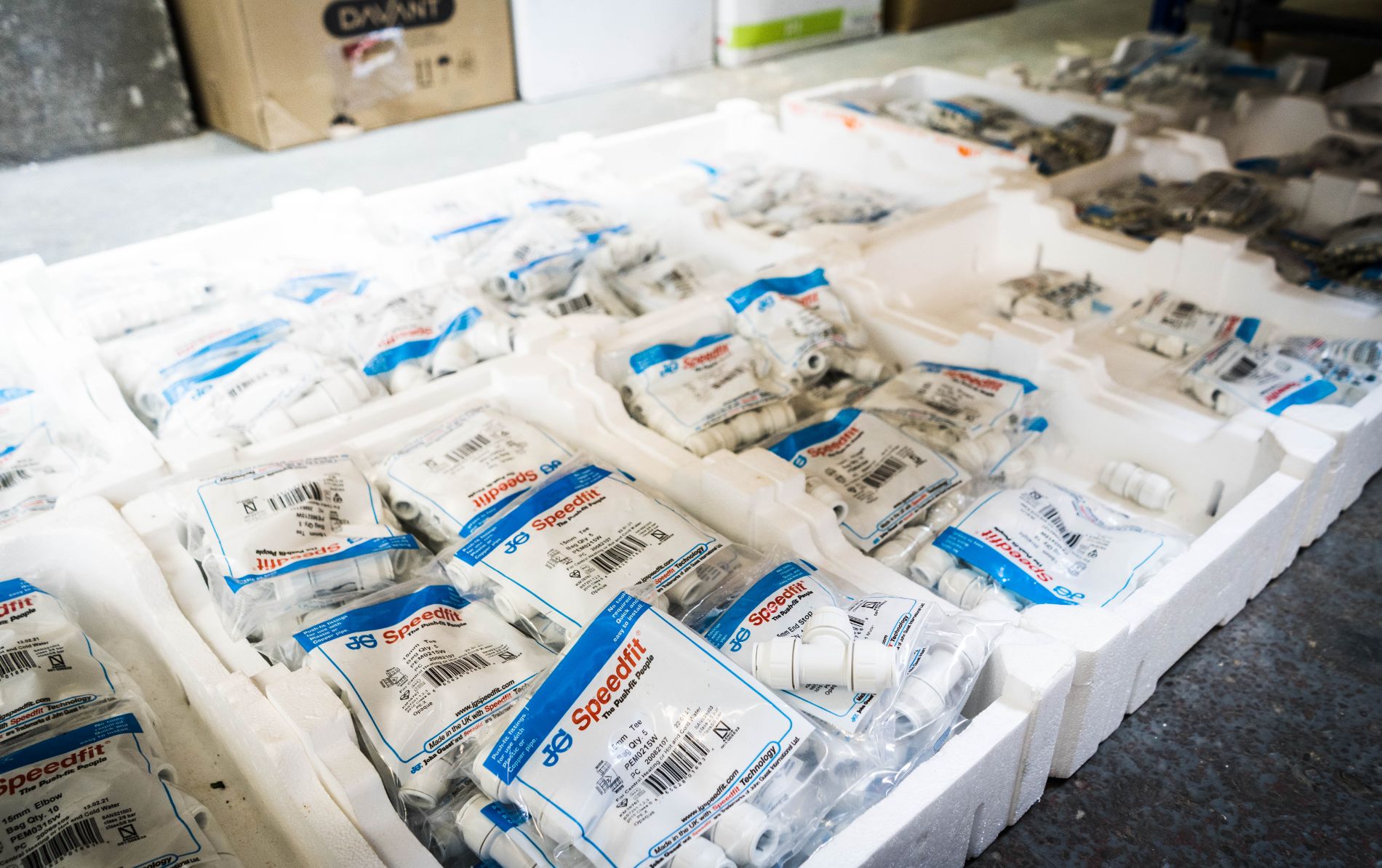 What Is The Best Material To Use For Plumbing Installations?
__________
Plumbing pipes for both residential and commercial buildings come in a wide variety of materials. Each of which have their own advantages and disadvantages. Before investing in a certain material, be sure to read our insightful section below…
Copper Pipes
Copper has been a widely used plumbing material since the 1960s and for good reason. It's incredibly durable, not prone to leaks, doesn't pollute water, is heat tolerant, is corrosion resistant and has a long lifespan. However, it is relatively expensive compared to other materials and copper isn't the most environmentally friendly material to use.
Polyvinyl Chloride Piping (PVC)
PVC is by far the most commonly used pipe material in residential homes due to it's versatility and relatively inexpensive cost. The material is also durable, non-conductive, rust & corrosion resistant, sustains high water pressure and is easy to install (no metalwork required).
Chlorinated Polyvinyl Chloride Piping (CPVC)
CPVC pipes are PVC with additional chlorine that can be used to carry hot water and is safe for drinking water. They are insulated to prevent energy loss, more flexible than copper, more fire resistant, non-conductive, more durable than PVC and is easy to install. However, they are more expensive than PVC, are not recyclable and pipes can split when frozen.
Cross-Linked Polyethylene Piping (PEX)
PEX is one of the most recent industry innovations in the plumbing world. PEX is an extremely flexible pipe that is similar to a hose. It can bend around edges and obstructions whilst not requiring glue due to the use of compression fittings in the piping connections. PEX has a higher upfront cost than PVC but requires minimal maintenance and is incredibly easy to install.
Get in touch with us today!