Loft Insulation & Cavity Wall Insulation
__________
When it comes to loft insulation and cavity wall insulation, West Midlands Builders Merchants provides the highest quality supplies at the lowest prices in Birmingham. We are an independent, specialist one-stop shop for all building supplies and are unrivalled when it comes to the quality customer service we provide.
Insulation is an essential feature for modern homes and extensions as it very effectively retains heat, and significantly drives down energy bills. At WMBM, our vast range of loft insulation products come in various thicknesses to suit all coverage requirements, all of which meet building regulations.
Whether you're looking for loft roll insulation, full fill cavity insulation, insulation boards, insulation slabs or multi foil insulation, we have it all! As an all-encompassing builders merchant, we can also provide you with the necessary tools and accessories for you to complete your insulation project.
Building professionals requiring materials quickly, commercial construction companies requiring bulk orders and for homeowners looking to conduct some DIY…we cater for all types of customers. If you'd like to learn more about our products or pricing, get in touch with the brilliant West Midlands Builders merchants team today!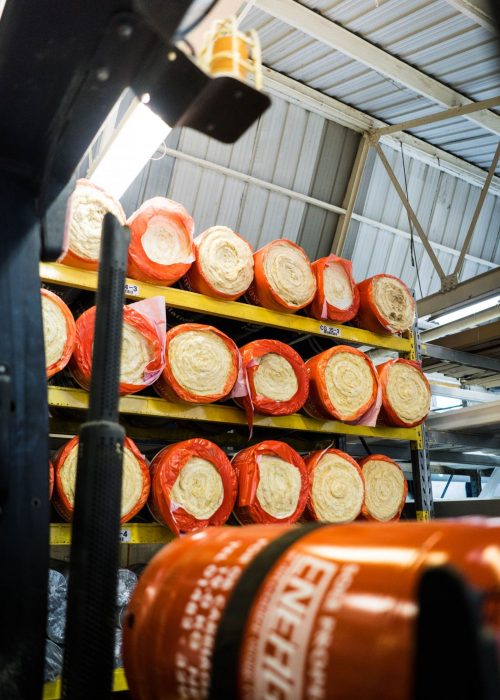 Cavity Insulation (100mm) 4.32m²

Loft Insulation (100mm) - 12.88m²

Celotex Insulation Roofing

Prevent Heat Loss
By creating a thermal barrier through insulation, heat loss is minimised as less heat is lost through the roof and walls of your home. By installing insulation, you can expect at least a 25% reduction in heat lost, meaning your property will be warmer in the winter and cooler in the summer!
Save On Your Energy Bills
A very alluring bi-product of having insulation installed is the substantial reduction in energy bills. Over the many years of having insulation installed, the product will pay for itself many times over with the consistent savings you make on a monthly basis.
More Environmentally Friendly
Through cutting down on your energy use, another great perk is the reduction in your personal carbon footprint. Depending on the size of your home, you could save anywhere between 550KG and 1030KG of carbon dioxide.
Less Noisy
Insulation also provides resistance against noise pollution and will reduce the amount of noise that's able to make it's way into your home. When properly installed, you should notice a significant reduction in outside noise entering your abode.
Get in touch with us today!